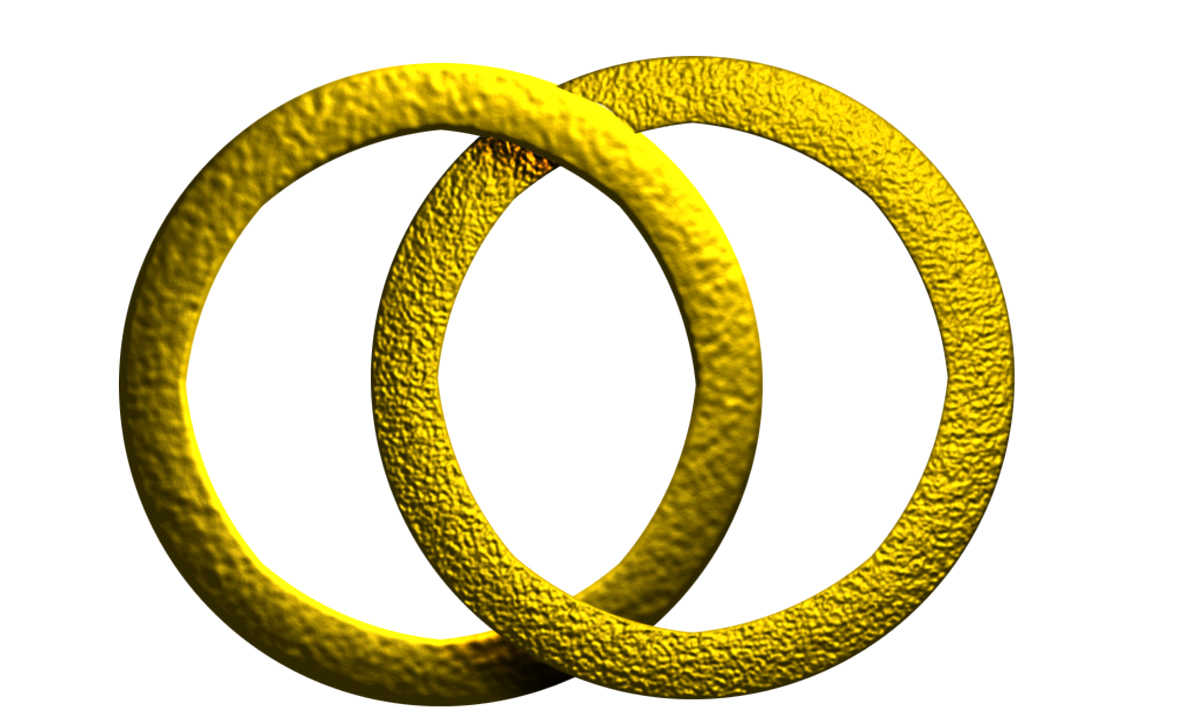 The rings represent members of an interfaith family joining together to celebrate their traditions while respecting the distinctiveness of each faith.
Adult Education
---
At the Interfaith Families Project, we believe that developing our understanding and experience of religion and spirituality is a life-long process. Thus, we offer programs for religious education for adults as well as for children. Our primary offering for adults is our Adult Education Program which meets simultaneously with our Sunday School every Sunday IFFP gathers, from 10:45-12:00. Our adult program has grown from an informal series of member-led discussions to a varied program of single session large group discussions and multiple session smaller group discussions that draw on the expertise of outside speakers, our Spiritual Director and Spiritual Advisor as well as our membership.

The topics for the meetings are usually announced in our weekly member's List Serv Bulletin. Click here to view past and future topics Click here to view past and future topics.

The 2006-2007 Adult Group Topics will include:

September 17: Back to School Discussion led by Ellen Jennings, Director of Religious Education. Plus, Fall Open House Orientation session where prospective members can meet Rev. Julia Jarvis, Rabbi Harold White, board members and learn about IFFP programs and activities.
September 24: New Israel Fund led by Prof. Peter Edelman, President of the Board of NIF. NIF advances civil rights and social justice for all Israelis and supports a pluralistic and tolerant Israeli culture. Edelman teaches law at Georgetown, has served on all 3 branches of government & written on poverty, constitutional law, children & families. Prof. Edelman is a partner in an interfaith relationship with Marian Wright Edelman, founder of the Children's Defense Fund.
October 1: Observance of Fasts for Yom Kippur and other traditions, with Rabbi Harold White
October 8: Sukkot Gathering & Gleaning at gleaning field (TBA)
October 15: Discussion of Working with Caregivers for the Dying led by Sister Rose Mary Dougherty who will share her insight and background with connections between Zen and Christianity.
October 29: Challenging Passages of the Bible led by IFFP Members
November 5: Comparative Understandings of Death and Dying and associated Rituals with Rabbi Harold White
November 19: Speaker Chris Leighton from the Center for Jewish and Christian Studies in Baltimore on challenging questions around Christian views on supercessionism.
December 3: December Dilemma discussion about the joys and challenges of celebrating Christmas and Hanukkah in an interfaith family.
December 10: Forgiveness led by Rabbi Harold White
December 17: Discussion of musical traditions in respective religions and Musical Session (music and song), in conjunction with the musicians and choir of IFFP.
Dates TBA: Interfaith 101, led by long time member Ian Spatz. Three sessions will discuss life situations and challenges in an interfaith family: celebrating both holidays, dealing with extended family, how to raise the children, etc.

In the Spring, we will offer a three session series: Judaism 101 and a second track on a "Peaceful Home"

During the 2005-6 year, our multi-session series were:

The Gospel of Mark as Political Manifesto, led by our Spirtual Director, Rev. Heather Kirk-Davidoff.
Introduction to Kabbalah, with Rabbi Harold White
Interfaith 101, led by long-time IFFP members Ian Spatz and Sue Katz-Miller.
Judaism 101, led by Rabbi Gilah Langner
Personality and Spirituality, led by trainers Grace McLaren and Linnea Nilsen Capshaw.
Christianity 101, led by IFFP members Sam Lawson and Kent Dirckx
Way to Pray, led by Ann Kline from the Shalem Institute.

Our large-group, single session topics included:

"What Christmas Can Mean to a Jew, and What Hannukah Can Mean to a Christian" and "Introduction to Kabbalah" led by our Spiritual Advisor, Rabbi Harold White.

The Jewish Roots of Christianity with Rabbi White
The Messianic Concept in Judaism & Christianity with Rabbi White
A discussion of the values that guide our Gatherings, led by members of our Worship Committee.
Should IFFP take a position on political or social issues?", led by IFFP Board members Steve Jackson and Sam Lawson.
A conversation about Jews, Christians and Muslims during the Golden Age of Spain led by Prof. Richard Rubenstein, author of Aristotle's Children: How Christians, Muslims, and Jews Rediscovered Ancient Wisdom and Illluminated the Middle Ages, and When Jesus Became God: The Struggle to Define Christianity in the Last Days of Rome.